Glandex ingredients Supplements
Made From High Quality All-Natural Ingredients
We care about the health of your pet and take extensive measures to use only the highest quality human-grade ingredients in Glandex®. Our all-natural patented formula is proudly made in the USA with globally sourced materials and does not contain any artificial ingredients, preservatives, corn, soy, or wheat!
Glandex is available in both Soft Chews & Powders in multiple flavors, all with a great taste that your pet will absolutely love! Simply give Glandex to your pet once daily using the suggested dosing guidelines on the label and help your pet finally leave scooting behind.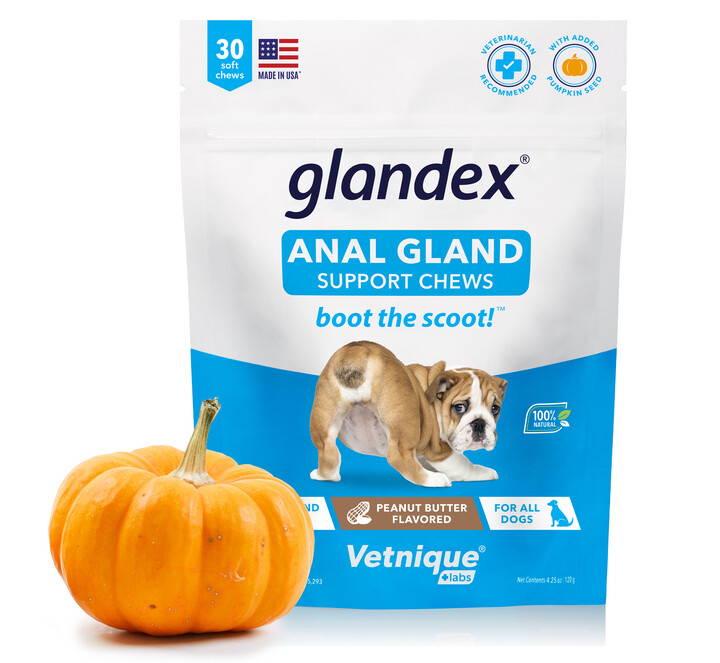 Glandex ingredients utilize veterinary research to ensure the highest nutritional health benefits and be best possible efficacy. Glandex contains a unique blend of high-quality fiber and other key ingredients including pumpkin seed, omega-3 fatty acids, digestive enzymes, prebiotics, and probiotics.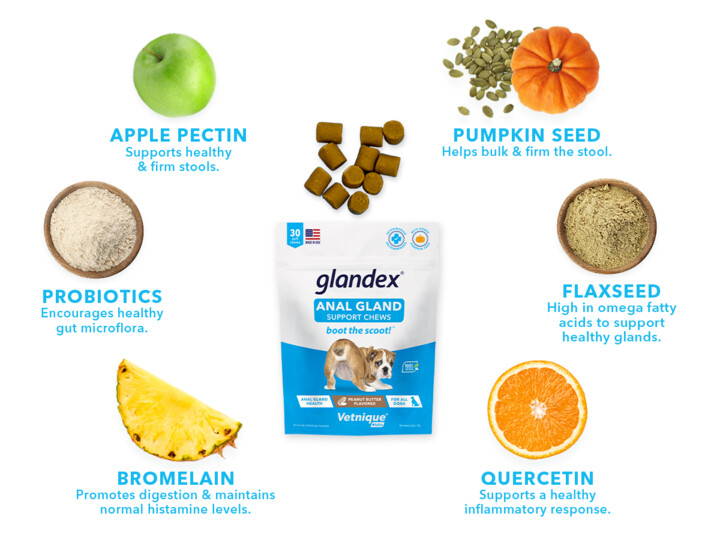 Pumpkin Seed: A great source of insoluble fiber to bulk stools and support healthy bowel movements. Also provides omega fatty acids to support a healthy inflammatory response and maintain normal histamine levels.
Apple Pectin: A highly soluble fiber found in apples that can support healthy and firm stools.
Quercetin Dihydrate: A flavonoid found in many fruits and vegetables and has powerful antioxidant properties, plus helps support the inflammatory response and maintain histamine levels.
Bromelain: An enzyme extracted from pineapple that increases the bioavailability of Quercetin, aids with digestion, maintains normal histamine levels, and supports a healthy inflammatory response.
Probiotics: Healthy bacteria normally found in the gastrointestinal tract of healthy dogs & cats, useful in improving digestion and immune function.